Main information:
Information for visitors
Linderhof Palace is situated in the Graswang Valley, near the village of Ettal.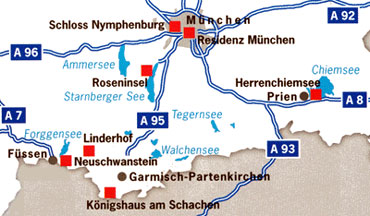 How to get there by car or coach
Take the A95 motorway and the road B2 to Oberau. Follow the signs in Oberau to the road B23 (Ettaler Straße). Outside Ettal turn left to the road ST2060. In Linderhof turn right to reach the palace.
There are parking facilities for 550 cars and 20 coaches available (with costs).
Route planners you can find on

http://auto.abacho.de/routenplaner/.
How to get there by public transport
By train (Deutsche Bahn –

www.bahn.de) to Oberammergau: from there bus connection to Linderhof (9622).
| top |