Main information:
Information for visitors
Current information / Coronavirus
In order to protect our staff from COVID-19, it is still mandatory to wear a FFP2 mask. Children and young people between the ages of six and 16 only need to wear a medical face mask.
Visitors without the appropriate mask must unfortunately be refused entry; this also applies if a medical certificate is presented.
Children up to their sixth birthday are exempt from the mask requirement.
---
A visit to Linderhof Palace is only possible as part of a guided tour. 
Tickets are available at the at the cash desk of Linderhof Palace.
Individual visitors and families have the option of booking online in advance via our reservation website (maximum 7 days in advance; booking deadline for the next day is always at 5 pm).
For groups of 15 persons or more, reservations can be made by e-mail, fax or letter. Further information can be found here

Opening hours and guided tours
Opening hours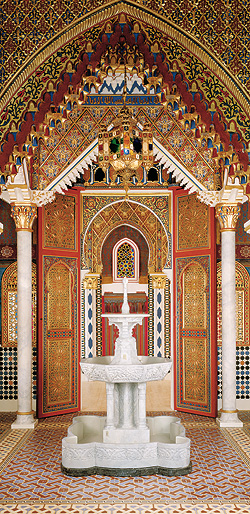 Public holidays: All buildings are closed on 1 January, Shrove Tuesday, 24 / 25 / 31 December.
Tickets on sale:
April-15 October: daily 8.30 am-5.30 pm
16 October-March: daily 9.30 am-4 pm
Linderhof Palace
April-15 October: daily 9 am-6 pm
16 October-March: daily 10 am-4.30 pm
Moroccan House and Moorish Kiosk
15 April-15 October: daily 9 am-6 pm
closed from 16 October to 14 April
Hunding's Hut and Gurnemanz Hermitage
15 April-15 October: daily 11 am-6 pm
closed from 16 October to 14 April
In winter the park buildings (except the Royal Lodge) are closed. Please note that the opening/closing dates of the park buildings at the beginning/end of the season depend on the seasonal weather.
Exhibition at the Royal Lodge
April-15 October: daily 11 am-6 pm
16 October-March: Sundays and public holidays: noon-4.30 pm and during the Bavarian school holidays daily from noon-4.30 pm
Waterworks: mid-April to mid-October · daily 9 am-6 pm · fountain every half hour
Guided tours
The visit of the palace is only possible with a guided tour. There are guided tours in German and English. A tour lasts about 25 minutes (currently clearly reduced group size).